We have all heard that the kitchen is the heart of the home, and most would agree. So much goes on in the kitchen in way of food preparation, conversation and special family gatherings. Breakfast nooks are fast becoming a popular trend in kitchens because of their space saving and design quality. A breakfast nook is usually an area where a built in bench is around a square or round table; very similar to booth at a restaurant. One of the most essential items to add to a breakfast nook is a custom bench cushion.
The custom bench cushion is a functional and necessary part of the home. Although a bench cushion is simple in shape, it can provide a world of difference in comfort, durability and style. That's where Cushio steps in, offering customizable Sunbrella bench cushions to fit any size breakfast nook.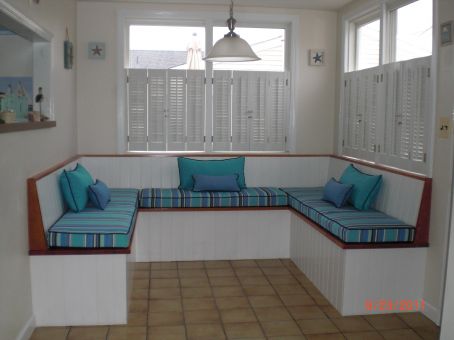 Stain-Fighting Bench Cushions
Because cushions in a breakfast nook will need to stand up to the heaviest of stains, you will want to have your bench cushion made with stain-resistant fabric, such as Sunbrella. Sunbrella fabric, among other things, is water-resistant. A water-repellent finish is applied to the fabric during the manufacturing process, which allows spilled punch, milk or any other liquid to bead right off, for fuss-free, easy clean-up. That's why Cushio makes all its bench cushions with Sunbrella.
Fade-Resistant Bench Cushions
Most breakfast nooks are placed near windows, where ample sunlight pours through and can eventually cause fading to cushions and pillows. Fade-resistant Sunbrella fabric is the industry's top choice among designers and retailers because of its unique approach to outdoor fabric. The method Sunbrella uses is called solution dying, the process of adding color to acrylic fibers during the liquid state. This allows the color to be applied throughout the fibers, which makes color last longer and resistant to fading.
Printed fabrics from other manufacturers will not be as resilient to the sun because the color is only applied to the outer fibers. Sunbrella applies the color throughout each fiber, which helps maintain its original color and vibrancy. In fact, it comes with a warranty of 5 years against fading, so your Sunbrella bench cushions will look beautiful, year after year.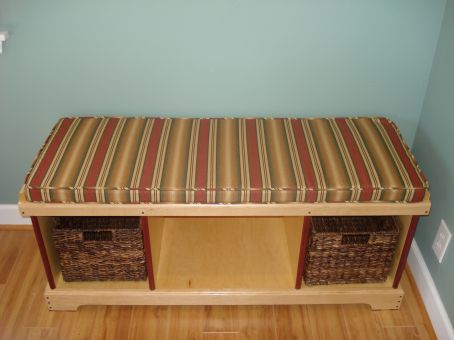 Customizable Bench Cushions
Cushio offers not only durable, fade-free and water-resistant fabric but they offer the choice to create the perfect custom Sunbrella bench cushion for any application in your home. You get to choose the dimensions, type of fill, the option of adding ties to your bench cushion, as well as selecting from a huge array of Sunbrella fabrics. Having so many options truly allows total customization at your fingertips.
To create a cushion for a mudroom, foyer or outdoor area, consider Cushio for all your Sunbrella bench cushion needs.